Regular mass deportations from Algeria to Niger continue. With at least 1275 people deported on the first of October 2021 in a large official convoy, the number of people deported since the beginning of the year 2021 amounts to at least 17855 people.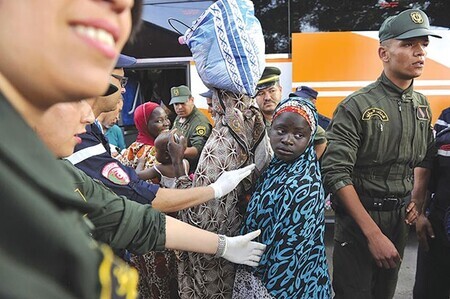 Algerian security forces arrest migrant women.
Archive photo of another raid and deportation action in the past.
According to the whistleblowers of Alarme Phone Sahara, 1275 people deported from Algeria to Niger in an official convoy arrived at the Assamaka border post on 1st of October 2021. Among them were 67 minor girls, 101 women, 100 minor boys and 1007 men. Again, the high number of 167 minor children among the people deported is worrying, given that cases of child abuse and separation of children from their parents are regularly reported from deportation convoys from Algeria to Niger.

Deportation agreements and externalisation of borders
Official deportations from Algeria to Niger take place on the basis of a bilateral agreement signed in 2014 for the deportation of Niger nationals, many of whom live in Algeria in an often seasonal migration context.
Alarme Phone Sahara notes a worrying and outrageous trend that according to figures documented by its whistleblowers, deportation convoys are getting larger and larger, with regularly more than 1000 people deported in a single convoy.
The deportations from Algeria to Niger and the human rights abuses by Algerian security forces should also be seen in the context of the policy of externalisation of borders by EU countries, which have agreements with Niger to help close migration routes and which also collaborate with Algeria, among other things in the form of the provision of large capacities of military vehicles and "security" technology.

In view of all this, Alarme Phone Sahara continues to request:
⦁ An immediate halt to the deportations and pushbacks of refugees and migrants from Algeria to Niger and other neighbouring countries!
⦁ The cancellation of the deportation agreement between Algeria and Niger!
⦁ An immediate halt to the deportation of children and the separation of children from their parents!
⦁ An end to acts of theft and violence by Algerian security forces against migrants and refugees!
⦁ The commitment of the state of Niger to defend its citizens who suffer persecution, human rights violations and deportations in Algeria!
⦁ Algeria and Niger must stop collaborating with the policies of outsourcing European borders on African soil and taking military and security materials to use against the migrant population!