With Moctar Nalossou from Agadez, Niger
The borders that European states erect against migrants and refugees have long since run far beyond the EU's external borders, including through many countries on the African continent. The repressive border regime creates life-threatening conditions and causes people to die not only in the Mediterranean and Atlantic, but also on the travel routes through Niger and other Sahel and Sahara states. The Alarme Phone Sahara (APS) counters this brutal EU border regime in Agadez and other places in the north of Niger with interventions in solidarity by rescuing people in distress on routes used by refugees and migrants in the Nigerien desert.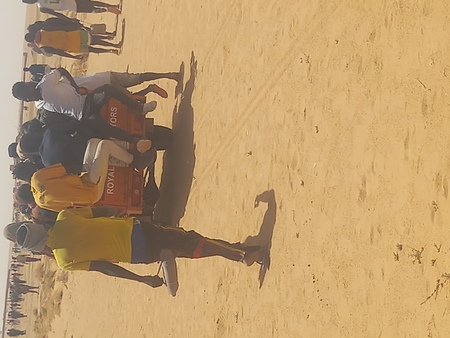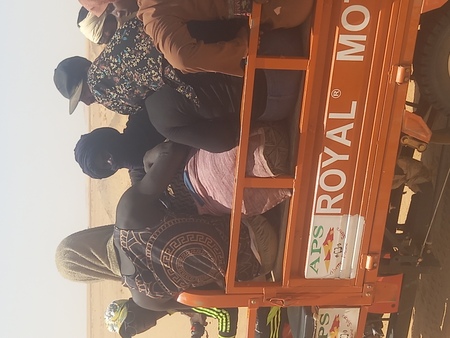 Alarme Phone Sahara - team Assamaka in action with motor-tricycle supporting deportees
©Alarme Phone Sahara
A major challenge is currently the brutal mass deportations of thousands of people, mostly citizens of many African countries, from Algeria to the desert on the Niger-Algeria border. 7500 deported people were stuck in the Nigerien border village of Assamaka in catastrophic conditions in early May 2023. The Alarme Phone Sahara team provides practical support on the ground, including using motorised tricycles to pick up people who are dropped off in the middle of the desert, 15km from Assamaka, after being deported from Algeria. In doing so, the APS never tires of demanding the evacuation of deported people from Assamaka and campaigning for an end to mass deportations from Algeria and other Maghreb countries.
In order to oppose the deadly border regime both legally and politically, Alarme Phone Sahara is involved in a lawsuit and campaign against the Nigerien "anti-smuggling law" 2015-036, which was worked out according to the wishes of European donors and criminalises migration and migration-related services. It is also a major reason why travelling through the desert far from official roads and checkpoints has become even more dangerous than before.   
Moctar Nalossou works as administrative and financial manager in the Alarme Phone Sahara coordination office in Agadez (Niger) and will report on backgrounds and current developments of the repressive migration policy in Niger and on his daily work during his info tour.
Among others, the following topics will be addressed:
Desert emergency rescue by Alarme Phone Sahara on the flight and migration routes from Niger to Algeria and Libya.
Practical support for people deported from Algeria in the border village of Assamaka and demand for evacuation and a stop to deportations.
Collective kitchen for refugees and migrants in Agadez.
Complaint and campaign against the anti-smuggling law "2015 -036" pushed by the EU, which criminalises regional migration.
Situation of women and girls in forced prostitution and as victims of human trafficking.
Situation of refugees and asylum seekers blocked in Agadez
Consequences of climate change: political work in the face of rising desert temperatures.
Events will take place at the following locations:
23.06.2023 | 19h | University of Osnabrück, Seminarstraße 15, Osnabrück
26.06.2023 | 18h | Leuphana University, room C 40.256, Universitätsallee 1, Lüneburg
27.06.2023 | 19h | SSK Sozialistische Selbsthilfe Köln e.V. Salierring 37, Cologne
04.07.2023 | 19:30h | Cultural Centre Kukoon in the Park near Leibnitzplatz, Bremen
05.07.2023 | 19h | Cultural Centre Pavillon, Group Room 2, Lister Meile 4, Hanover
Up-to-date information on time and place can be found here: www.alarmephonesahara.info/ and on Facebook (@AlarmePHONESahara) and Twitter (@AlarmephoneS).