"Agadez became our third torture station after the torment of Libya and Sudan."
Once again, Sudanese refugees living in UNHCR refugee camps in Agadez are adressing themselves to the UNHCR with the urgent demand for a solution for their situation, as they have been blocked in Niger since 2017 without any positive results for their cases.
Since early 2019, there have been repeated protests of Sudanese refugees living inside UNHCR facilities in Niger. From 16th of December 2019 till 4th of January 2020, Sudanese refugees did a sit-in protest in front of the UNHCR headquarters in Agadez, until the regional and municipal authorities, accompanied by security forces, removed them by force and 111 refugees were sentenced by the court on questionable charges. 
Alarme Phone Sahara stands in solidarity with the Sudanese refugees in Agadez. Let their demands be heard and answered this time!
Spread this information largely!
#leavenoonebehind      

Sit-in of sudanese refugees in front of the UNHCR headquarters in Agadez in December 2019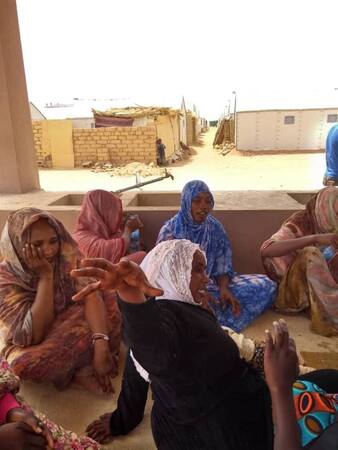 Sudanese refugee women in one of the camps of Agadez in the Republic of Niger    
Here is the declaration:
Agadez camp, Agadez region, north Niger
August 1, 2020
To: UNHCR in Geneva; humanitarian and international organizations; the international community
Subject: Urgent appeal, immediate rescue request, urgent humanitarian situation.
We are Sudanese refugees in Agadez camp in the Republic of Niger. Our suffering started from our country Sudan due to lack of security, protection, civil war, lack of rights, freedoms and discrimination, we went to Libya to escape persecution in our country, and Libya has become a threat to our lives. Due to insecurity, military operations and aerial bombardment, we sought refuge in Niger since 2017 and asked for protection and assistance, and we are still in Agadez camp. Our conditions are now dangerous and difficult and we have no solutions but to seek help from the United Nations refugee agency in Geneva and the international community and humanitarian organizations to help us pressure the relevant authorities in the Republic of Niger between the government and UNHCR in Niger to help us.
The world, the press and social media know that our conditions are very harsh in the Agadez camp, and these conditions are not appropriate for the human being. We need to be rescued immediately. We have posted photos and scenes from inside the camp to social media.
From 2017 to today 31 July 2020, we have not found sufficient support neither from the High Commissioner for Refugees in Niger, nor from the government of Niger. We are homeless. We have been in a sit-in for several months and we have not found care and heard of our demands.
We have applied for asylum since 2017 and so far our file has not been completed. Those who received recognition of the request are without the slightest care even in health, all of our lives are at risk, most refugees were not recognized as refugees from the beginning, and our conditions are going from dangerously bad to worse.
Refugees holding asylum cards from the Chad country who have been in the camp since 2017 have been rejected and in 2019 their file has been resumed, but so far they have not found any response from the UNHCR.
We were placed in an environment that is not suitable for life among animals and a barren desert. Our conditions are very harsh. This led to psychological disturbances for refugees, the emergence of miscarriages among women, suicides, and chronic diseases. The harsh conditions led to the exit of a number of psychiatric patients from the camp, we did not find out yet where they are, and we do not know whether they are alive or dead, amid general disregard from the competent authorities.
The refugee camp of Agadez accomodates children, women, widows, elderly persons, handicaped persons and sick patients, without the organization's care for them.
We lack the most basic elements of life, health and care, as there is neither adequate treatment nor a competent doctor, nor food and clean water.
There is no education, and there is no minimum level of decent living. Health services are not available in an alarming way.
The staff of the organization do not treat us humanely, we find inappropriate treatment.
We also complain about the administrative corruption of the UNHCR office in Agadez, the manipulation of our procedures and documents, and it has become clear, and a number of refugee files have been lost.
And now we are on the verge of autumn and storms taking off our housing that is not yet suitable for housing. And now we spread earth as a pillow and the sky remains an umbrella, as long as we are without care ..!
So we have been standing in the open for more than two weeks, and we will not stop the protest until our demands for a decent life are fulfilled.
We appeal to you as an organization related to the protection of refugees worldwide, and we appeal to all humanitarian organizations and the international community, and people of conscience, to listen to us, and say to them, have mercy on the Sudanese refugees in Agadez camp in Niger.
Agadez became our third torture station after the torment of Libya and Sudan.
According to the United Nations Global Protocol on the Status of Refugees in the World in 1951 in Geneva, we believe we have legitimate rights, and the Niger State is one of the signatories to the UN Charter relating to the Status of Refugees and Protection.
We request that you inform the relevant authorities of refugee affairs in order to see the necessary support and protection in the Agadez camp in Niger.
We await your reply as soon as possible.