In Agadez and other cities in Niger, thousands of people stranded on migration routes are suffering while major international organisations fail to meet their basic needs.
The International Organisation for Migration (IOM) plays a key role in the European Union states' policy of externalising borders on African soil. It is the IOM that manages the so-called "voluntary return" programmes to migrants' countries of origin, including taking care of them in its camps until they return. According to IOM guidelines, people are provided with accommodation and food if they accept the so-called "voluntary return".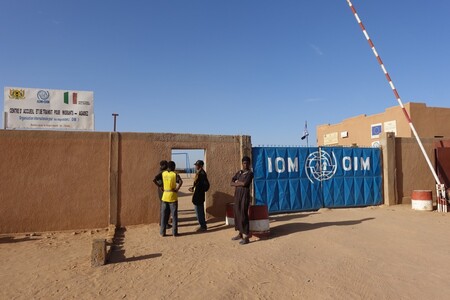 IOM transit Camp in Agadez / Niger
In Niger, thousands of migrants and refugees who are stranded on their migration route, often deported from Algeria and Libya, end up in IOM transit camps in Agadez and also in other transit towns such as Assamaka, Dirkou and Arlit. However, according to research and testimonies taken by Alarme Phone Sahara, the IOM is far from setting up sufficient capacity to meet the most essential needs of these people for whom it has given itself the mandate to care. As a result, many African people are suffering from the policy of externalisation of borders in Agadez and are seeing their human rights violated on a daily basis.
Impressions and testimonies from the IOM camp in Agadez
According to on-site observations by the Alarme Phone Sahara (APS) team, the IOM transit camp has exceeded its capacity and the streets around the camp are being used as a refuge for migrants.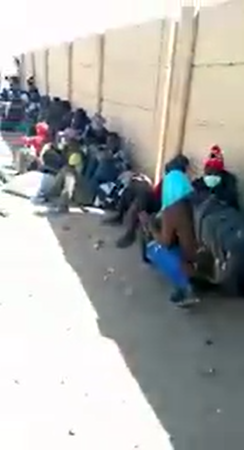 Archive image: Malian persons excluded from IOM camp January 2021
Witnesses explain that they have been registered for 1 to 2 months as candidates for so-called "voluntary return". But they are not allowed to access the camp, nor to use the accommodation and catering services. The hygiene conditions for these people are deplorable.
Sudanese, Sierra Leoneans, Senegalese, Gambians, Chadians and other migrants and refugees live traumatic experiences between the streets, the bus stations and the premises of civil society organisations, including Alarme Phone Sahara (APS), who can offer them a minimum of assistance and support. 
In the camps near the Niger-Algeria and Niger-Libya borders, passing through the transit towns of Assamaka, Dirkou, Arlit and Agadez, before reaching Niamey, the capital of Niger, the candidates for so-called "voluntary return" are waiting for a better tomorrow.
Due to administrative delays, inadequate or lack of resources to take care of them, people on the move no longer know what their fate is.
Some people have to beg while others engage in low-paid activities.
As for women, they are often in the most vulnerable position. Their confidential statements speak volumes.
Finally, it should also be recalled that frustrations due to the blocking of migrants and refugees in poor conditions do not only concern the IOM, but also the UNHCR, whose camps in Agadez and in other localities in Niger have been the subject of refugee protests for years, often repressed by harsh repression, including the death of a Sudanese refugee killed on 25th of May 2022.
It is time for the international community to take responsibility for the deteriorating living conditions of migrants and asylum seekers stranded on their way to Agadez and other cities in Niger.
Alarme Phone Sahara calls on IOM and its donors:
Provide sufficient resources to enable decent living conditions for all migrants and refugees in need of assistance in Niger.
Accommodation and care must not be dependent on submission to a so-called "voluntary return"!
For those who want to return to their country of origin of their own free will, they must be given the necessary assistance to return in dignified conditions!
Instead of spending millions of Euros to close the borders and prevent migration by force, the freedom of movement of people must be respected and invest must be done in saving lives on the migration routes and creating safe travel routes for everyone!