After in 2021 at least 25396 people were deported from Algeria to Niger in miserable and sometimes even deadly conditions, the year 2022 has started again with large-scale deportation convoys, accompanied by systematic violations of the rights and dignity of the people concerned.
Whistleblowers of Alarme Phone Sahara in Assamaka on the Algerian-Nigerian border have counted the arrival of at least 3376 deportees since the beginning of 2022 until 8th of March.
In addition to the Algerian state, Libyan authorities have also started to deport large groups of people to their neighbouring country, Niger.
Non-official deportation convoys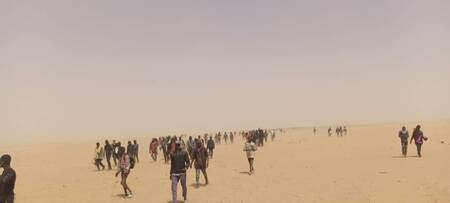 Arrival of deportees at Assamaka on foot, 8th of March 2022
According to Alarme Phone Sahara whistleblowers in Assamaka, unofficial deportation convoys from Algeria arrived on 23rd of January, 7th of February and 8th of March 2022.
On 23rd of January 2022, 754 deportees, among them 3 women and 3 minor boys, arrived in Assamaka on foot. Also this time, the largest groups of deportees were 219 Malians and 244 Guineans. Among them were 97 nationals from Sudan, 21 from Senegal, 31 from Burkina Faso, 32 from Ivory Coast, 18 from Sierra Leone, 17 from Cameroon, 20 from Benin, 13 from the Gambia, 17 from Nigeria, 8 from Chad, 3 from Niger itself, 3 from Ethiopia, 2 from Liberia, 4 from Central African Republic, 4 from Eritrea and one Syrian among the deportees.
On 7th of February, it was even 1269 people, among them 4 women and a minor girl. Again, the largest groups were 427 nationals from Guinea Conakry and 424 from Mali. In addition there were 119 nationals from Burkina Faso, 39 from Nigeria, 46 from Sudan, 28 from the Gambia, 30 from Benin, 29 from Senegal, 27 from Sierra Leone, 2 from Guinea Bissau, 7 from Cameroon, 5 from Liberia, 11 from Chad, 2 from Togo, one person from Niger and one from the Central African Republic
On 8th of March, it was another group of 810 people, among them 15 women, 3 minor girls and one minor boy. The deportees were 328 nationals from Guinea Conakry, 274 from Mali, 43 from Burkina Faso, 45 from Ivory Coast, 26 from Benin, 21 from Sierra Leone, 20 from Nigeria, 16 from Senegal, 13 from the Gambia, 4 from Liberia, 3 from Togo, 3 from Ghana, 2 from Chad, one woman from Cameroon, one man from Sudan and one from Niger.
Deported to the desert - the dangerous and exhausting walk from "Point Zero" to Assamaka
Regularly, the people deported in these "non-official" convoys are left at "Point Zero" in the border area between Algeria and Niger, in the middle of the desert. The deportees have to walk between 15 and 20 kilometres through the desert to reach Assamaka, the first Nigerien town after the Algerian border. With this practice, the Algerian security forces always put the lives of the deportees at risk.
According to the observations of the deportees and the whistleblowers of Alarme Phone Sahara, orientation markers have been installed between Point Zero and Assamaka. However, in the unpredictable conditions of the desert, people still lose their orientation while walking. In addition, there are always injured, sick and weakened people among the deportees who are no longer able to walk 15 to 20 kilometres. The whistleblowers in Assamaka confirm that the IOM and Doctors without Borders are normally on the move every time an unofficial deportation convoy arrives to search for those people who have been left behind or lost on the march from Assamaka to Point Zero. However, setting up the escort they must have with them because of their security regulations wastes hours of precious time each time, increasing the danger of death for these people.
Current situation in Assamaka: Interruption of humanitarian shuttles between Assamaka and Point Zero
Alarme Phone Sahara's whistleblowers report that the truck used by IOM to rescue people in distress between Point Zero and Assamaka is currently broken down. As a result, shuttles by IOM, humanitarian organisations present in Assamaka and security forces are currently suspended.
In response to this urgent problem, the Alarme Phone Sahara team rented a private vehicle to rescue a patient who had arrived with the unofficial deportation convoy of 8th of March 2022 and was dropped off at Point Zero.
To better respond to such life-threatening situations, the Alarme Phone Sahara team in Assamaka wants to acquire tricycles to be able to shuttle people between Assamaka and Point Zero if necessary.
Official deportation convoys
According to the whistleblowers of Alarme Phone Sahara in Assamaka, official convoys deporting only Niger citizens from Algeria arrived on 24th of January, 9th of February and 10th of March 2022.
On 24th of January, there were 837 people, including 49 minor girls, 56 minor boys, 37 women and 695 men.
On 9th of February the great number of 1547 people including 186 minor girls, 214 minor boys, 173 women and 974 men.
And on 10th of March 1297 other persons of which 71 minor girls, 109 minor boys, 63 women and 1094 men.
Minor children deported
These figures show, among other things, that there were at least 685 minor girls and boys deported since the beginning of 2022. This high figure is again worrying, given that cases of child abuse and separation of children from their parents are regularly reported in deportation convoys from Algeria to Niger.
Nigerien deportees: arriving empty-handed, abandoned by the state
Another serious problem is that since 2020, the state of Niger no longer supports its own citizens deported from Algeria to return to their respective communities of origin. It should be noted that those deported from Algeria to Niger usually arrive empty-handed, as money and valuables have usually already been taken from them by Algerian security forces. In such a precarious situation, it is very difficult for deported Nigeriens to finance the journey from Agadez, where the official deportation convoys usually end, to their respective towns and villages of origin.
This pitiful situation once again raises the question of how the funds that the Nigerien state receives through the migration control agreements with the European Union are actually used.
Alarme Phone Sahara strongly criticises the fact that the state of Niger has withdrawn this basic support from its citizens who have already suffered the damaging and traumatic experience of deportation. Instead, the state of Niger should take a stand against the persecution and mass deportation policy of the Algerian state and cancel the deportation agreement it signed with Algeria in 2014.

The plight of migrants deported in convoys from Algeria to the Niger border
According to descriptions from deportees and drivers, transport in unofficial deportation convoys takes place in very harsh and violent conditions:
Transport from detention centres in the northern cities of Algeria, such as Oran or Algiers, to Tamarasset in the south in buses escorted by the national police.
According to many testimonies of deportees, it is common for mobile phones, cash and all personal belongings to be taken away before transport.
From Tamanrasset to Point Zero on the border with Niger, people are loaded into trucks where they have to stay in the back of the truck for hours, squeezed together, with no possibility of sitting properly, with very few breaks, with insufficient food and water supplies and no possibility of going to the toilet. Acts of violence by security forces are frequent in the detention centres and also during transport.
"(...) In Algeria, they caught us, well. (...) The money, mobile phone, tatata, they cancelled on us and then they hit us. That's what we only saw", says Mr Konaté, a Malian migrant deported in the non-official convoy of 7th of February 2022.
"We have suffered a lot. Since we left, we were beaten, there is no food, there is no food", says a man deported in the unofficial convoy of 8th of March 2022:
 Arrival of deportees in Assamaka on foot, 8th of March 2022

Precarious situation in Assamaka
Due to the Covid pandemic, people arriving at Assamaka with the non-official deportation convoys usually have to go through a two-week confinement before being taken to IOM camps in Arlit and Agadez. Somehow, the 1269 people who arrived on 7th of February 2022 in a deportation convoy under very harsh and violent conditions were stranded in Assamaka for a whole month, according to the Alarme Phone Sahara team.
The people did not know why this extended stay in Assamaka was imposed on them and they complained about miserable living conditions: lack of food and medical care and unhygienic conditions in the showers and toilets. This prompted them to protest and demand their departure to Arlit at IOM level. IOM officials responded to their demands by refusing access to the IOM camp for three days, without food, water or a place to sleep.
Modibo Fofana, a Malian citizen deported in the non-official 7th of February convoy, recounts his experiences in Assamaka:
"(...) Sometimes they say we will leave today (...). They said only two weeks. But we have been here for a month. A month and a few days. And then we missed eating. We did one week, we don't eat. One week. (...) There is someone who fell down because of weakness, he doesn't eat. Really, we are too tired. (...)"
Testimony of Modibo Fofana, deported on 7th of February 2022  
And another Malian citizen, Mr Konaté, deported the same day:
"(...) as soon as we came here, we left the 14-day confinement. We have finished the 14 days. We are asking to leave. (...) Each time we wait, they don't send us. (...) We ask to leave. The people went on strike. They have condemned us without food for 5 days. (...) We should be left there, it's better than leaving us in the desert without food, dust and mosquitoes, without medicine. (...)"
Testimony of Mr. Konaté, deported on 7th of February 2022
Departure of deportees from 7 February 2022 to Arlit one month later, on 7th of March:
The Assamaka experience demonstrates once again the lack of will or competence within IOM to adequately respond to the needs of people who find themselves in their institutions after the painful and perilous experience of deportation from Algeria.
Alarme Phone Sahara also criticizes the fact that IOM regularly responds to protests by deportees in its facilities with repressive measures such as exclusion from the camp, instead of taking the problems addressed seriously and changing things for the benefit of those concerned.
Latest news from Assamaka: Fire at the market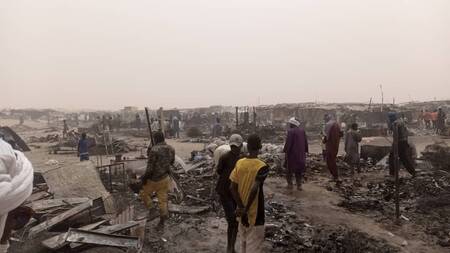 The market of Assamaka devastated by the fire on 18th of March 2022
On Friday 18th of March 2022, a fire destroyed a large part of the Assamaka market. The market is a central infrastructure for the local population as well as for migrants and other travellers in this border town and for the deported people who arrive there. This tragic event inevitably worsens the precarious situation in Assamaka. Members of the local Alarme Phone Sahara team also lost their stall in the market fire, which was their livelihood, and are therefore hoping for solidarity support.

More and more deportations from Libya to Niger
For a long time, people arriving in Niger from Libya were mainly, apart from those who make normal and regular trips between the two neighbouring countries, migrants and refugees evacuated by the UNHCR from detention camps in Libya or those who had left Libya on their own initiative to escape the unbearable and dangerous conditions there.
Recently, however, there have been increasing reports that the Libyan state - or what is designated as such - is itself deporting people to Niger.
On 4th of March, for example, the Alarme Phone Sahara team in the Dirkou and Bilma area observed the arrival of 190 people deported from Libya. Among the deportees were 110 people from Nigeria, including 80 women, 79 from Niger and one person from Ghana.

Due to this, Alarme Phone Sahara continues to demand:
⦁ An immediate halt to the deportations and pushbacks of refugees and migrants from Algeria and Libya to Niger and other neighbouring countries!
⦁ The cancellation of the deportation agreement between Algeria and Niger!
⦁ An immediate halt to the deportation of children and the separation of children from their parents!
⦁ An end to acts of theft and violence by Algerian security forces against migrants and refugees!
⦁ The commitment of the state of Niger to defend its citizens who suffer persecution, human rights violations and deportations in Algeria and Libya!
⦁ Stop the policies of outsourcing European borders on African soil!