On 27th and 28th of August 2022, protests by migrants of different nationalities, many of them deported from Algeria, took place in the IOM transit camps in Agadez and Arlit (10km from the town of Arlit) in Niger.
The reasons for the protests were, on the one hand, discontent with poor living conditions and no prospects. On the other hand, the situation of being stuck in the north of Niger waiting for a return to their home countries, but without any result.
Video statement by Malians at the IOM camp in Agadez, 28th of August 2022
They are 500 Malian people and according to their statement, they found themselves in the hands of IOM after being deported to Niger from Algeria and other countries. Before they were deported, they had some money and phones, but now they have no phones or money and they are suffering - apparently everything has been taken away from them.
According to them, the IOM has said that it can no longer support them, despite the fact that the IOM had promised to take them back to Mali and had even announced to organise a flight back. They also say that the food they receive in the camp is not good and insufficient. They also say that their parents think they are on an adventure or in Europe, but they are just sitting there.
Now they are asking for help from all Malian people, in Mali and in the diaspora. They also ask Assimi Goita, head of the Malian transitional government and his government, to bring them all back to Mali, because they are suffering.
They ask everyone to share the video.
Video of migrant protests in Agadez on 28th of August 2022
Some of them are carrying a flag of the Ivory Coast, presumably their country of origin.
According to research by the Alarme Phone Sahara team in Agadez, other specific reasons for discontent are:
It is reported that IOM has stopped, at least in part, return bus transport to countries of origin, for example to Mali. There are also complaints about the alleged unequal treatment of different groups of origin in the organisation of return transports.
In addition, the payment of funds for so-called "voluntary returns" after arrival in countries of origin is reportedly not working as promised.
Reports of serious shortcomings in IOM's handling of migrants in Niger
On several occasions, there have been protests by migrants and refugees in IOM and also UNHCR camps in Niger over the past years against poor living conditions and being stranded in Niger without prospects.
Alarme Phone Sahara has talked with witnesses who relate similar experiences:
People explain that they have been registered for 1 to 2 months as candidates for so-called "voluntary return". But they are not allowed to access the camp, nor to use the accommodation and food services. The hygiene conditions for these people are deplorable.
Migrants of different nationalities have traumatic experiences between the streets, the bus stations and the premises of civil society organisations, such as Alarme Phone Sahara (APS), which can offer them a minimum.
The experiences of people on the move speak of administrative slowness and insufficient or no resources to carry out their care.
Some people beg while others engage in low-paid activities.
As for women, they are often the ones who find themselves in the most vulnerable conditions.
IOM, a link in the chain of the border regime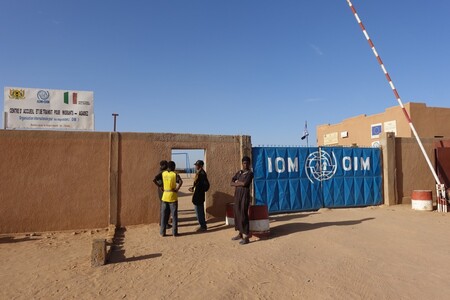 IOM transit camp Agadez
The IOM has been given the mandate to manage the so-called "voluntary return" programmes to the migrants' countries of origin, including their care in its camps until their return. According to IOM guidelines, people are provided with accommodation and food if they accept the so-called "voluntary return". With this role, the IOM is an important link in the chain of border outsourcing and migration control system set up on African soil under the influence of EU countries.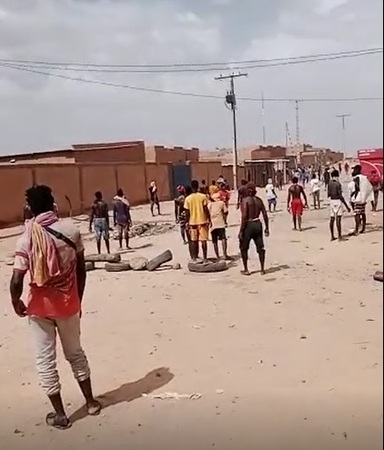 Migrant's protest at Agadez IOM camp, 28th of August 2022
The repeated protests in the IOM camps in Arlit and Agadez show emphatically that the IOM, despite the considerable budgets it receives, is not willing or able to at least ensure dignified living conditions for the people it has been mandated to care for and to reliably organise return programmes for those who, for lack of other prospects, are desperately waiting for a so-called voluntary return.
Alarme Phone Sahara requests IOM and its donors
Provide sufficient resources to allow decent living conditions for all migrants and refugees in need of assistance in Niger!
Accommodation and care must not be dependent on submission to a so-called "voluntary return"!
For those who want to return to their country of origin of their own free will, they must be given the necessary assistance to return in dignified conditions!
Instead of spending millions of Euros to close the borders and prevent migration by force, the freedom of movement of people hast o be respected and investment has to be made in saving lives on the migration routes and creating safe travel routes for everyone!
Following the statement of the Malian people in Agadez, Alarme Phone Sahara also supports their request to the Malian authorities to come to their rescue and help them return to Mali!