Deportation convoys in September and October 2019
For the months of September and October 2019, Alarme Phone Sahara's whistleblowers in the Agadez region of Niger reported a large-scale continuation of deportations of citizens of different nationalities from Algeria to Niger.
According to Ibrahim François, based in Ingall, and Mohamed Souleymane, based in Assamaka, the deportation of 3231 people across the border in Assamaka was confirmed for the days between 23 September and 20 October 2019.
Among the persons concerned, at least 754 are citizens of Niger, 1829 are citizens of other African countries and for 648 persons there are no figures on their origin. There were at least 63 women, 2569 men, 82 minor girls and 77 minor boys; for 440 people deported on October 20, there are no figures on their age and sex.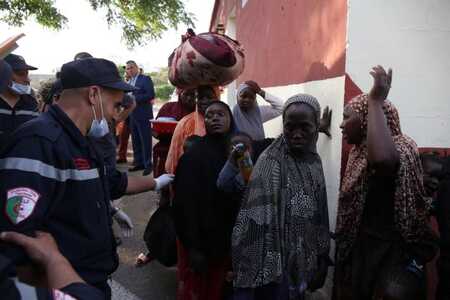 Photo source: middleeastmonitor.com
There were convoys that carried exclusively groups of people from Niger and others with citizens of various origins.
It was remarkable that among the deported non-Nigeriens, by far the largest groups were the citizens of Mali and Guinea Conakry. There were also nationals from other countries in the sub-region, including the Gambia, Burkina Faso, Benin, Sierra Leone, Côte d'Ivoire and Senegal, Central African countries, especially Cameroon, and even some people from Sudan and Somalia.  
Deportees are usually transported in bus and truck convoys to the border area near the Assamaka border crossing by Algerian law enforcement forces. They leave them in the desert to walk, already weakened, the last 15 to 20 kilometres on foot, risking collapse or getting lost. According to available evidence, IOM sometimes searches for deported people up till where they have been abandoned, but not in a reliable way.
IOM Tamanrasset-Niamey Charter Flights: New "Humanitarian" deportation method
On 15th of October 2019, the International Organization for Migration (IOM), according to its own publication, carried out, in close collaboration with the governments of Algeria and Niger, its first "humanitarian charter" flight of so-called "voluntary return", carrying 166 Nigerien citizens from Tamanrasset to Niamey. IOM is helping the Algerian state's policy of violent deportations by facilitating the deportation of vulnerable people with so-called "humanitarian flights".
Deportations from Algeria in an international framework
The institutional base for mass deportations from Algeria to Niger has been a bilateral agreement since 2014. The victims of this collaboration are, on the one hand, Nigerien citizens who had been migrating to their neighbouring country for a long time, often seasonally, in search of work and sources of income. On the other hand, the targeted persons are nationals of various African countries who are increasingly blocked in Algeria since recent years. Reasons are the war and the hunt on migrants in Libya, the closure of the Moroccan border and in general all the practices that seek to block migratory routes to Europe. The Algerian state, on the one hand, pursues its own interest in showing a tough and ruthless policy against refugees and migrants and in satisfying racism within its own society. At the same time, it also seeks to position itself as a reliable partner for the border regime of the European Union states. With them, it does not maintain a formal migration control agreement, but still receives large quantities of military and security material, such as surveillance technologies or vehicles from the German car manufacturer Mercedes-Benz.
No to the ongoing tragedy of deportations from Algeria to Niger
It is obvious: With the deportations from Algeria to Niger, there is a continuous drama of human rights violations against migrants and refugees. A tragedy that causes deaths, injuries and trauma. A tragedy that is encouraged and orchestrated by European policy, which seeks to externalise its border regime throughout the Sahel-Saharan region.
Alarme Phone Sahara calls on civil societies in the countries involved and concerned to resist deportations and pushbacks and to defend the lives, rights and freedom of movement of migrants and refugees.
Alarme Phone Sahara also calls on the governments and parliaments of all the countries concerned, such as Mali and Guinea, to come for urgent support for their fellow citizens and to speak out against the massive deportations from Algeria to Niger.
-------------------------------
The figures on deportations from Algeria to Niger through Assamaka between 23rd of September and 20th of October 2019 according to Ibrahim François and Mohamed Souleymane, Alarm Phone Sahara alert launchers:
Arrival on September 23rd: 
283 people deported, all Nigerien citizens, including 27 underage boys, 24 underage girls, 28 women, 204 men
Arrival on September 26th:
316 persons deported, including at least 3 women and 2 underage boys
Mali 138 including 2 women, 2 underage boys,
Guinea Conakry 64 including 1 woman,
Sierra Leone 24 
Camera 16,
Gambia 14
Côte d'Ivoire 13,
Senegal 9,
Ghana 9,
Burkina Faso 8,
Nigeria 7,
Benin 5,
Liberia 3,
Congo Brazaville 2,
Mauritania 1,
Sudan 1,
Chad 1,
Niger 1
Arrival on September 28th:
Official convoy: 281 persons deported, including 30 underage girls, 24 underage boys, 206 men, 21 women
Arrival on October 04, 2019:
465 persons deported, including at least 12 women and one minor boy
Mali 171
Nigeria 7
Ghana 6
Burkina Faso 24
Niger 15
Liberia 05
Sudan 07
Guinea 109
Ivory Coast 30
Camera 24
Sierra Leone 07
The Gambia 23
Benin 07
Senegal 15
Guinea Bissau 06
Central African Republic 01
Togo 03
Mauritania 02
Congo 01
Somalia 02
Convoy of October 12:
572 persons deported, including at least 20 women and 8 underage boys
Mali 183
Guinea Conakry 161
Camera 30
Ivory Coast 32
Nigeria 16
Gambia 19
Sierra Leone 20
Benin 26
Burkina Faso 33
Niger 1
Ghana 1
Liberia 02
Democratic Republic of Congo 4
Mauritania 01
Guinea Bissau 9
Central African Republic 01
Togo 3
Senegal 30
Arrival on October 14th:
367 persons deported, including 26 underage girls, 22 women, 304 men, 15 underage boys
Arrival on October 18th:
507 persons deported, including at least 9 women and 2 underage girls
Mali 162, including 1 woman
Guinea Conakry 147
Benin 22
Burkina Faso 15
Nigeria 09
Niger 14
Caméroune 26, including 6 women and one female minor
Guinea Bissau 03
Sudan 01
Mauritania 03
Congo 03
Togo 02
Côte d'Ivoire 37, including 1 woman
Sierra Leone 23, including 1 woman and 1 girl under the age of 18
Senegal 20
Liberia 04
Gambia 14
Ghana 02
Arrival on October 20th:
440 people expelled, all Nigerien citizens