Deportations, discovery of 4 dead people and a survivor woman found in the middle of the desert.
Despite the delay in news publications, much has happened in Assamakka's surroundings on the Algerian-Niger border since June 2019. This is a summary of the latest events based on the reports by Mohamed Souleymane, Alarm Phone Sahara's Alert Launcher in Assamakka, and Azizou Chehou, Alarm Phone Sahara's coordinator in Agadez:
Deportation to Assamakka on 17th of June 2019
178 deported migrants, including 34 women, 21 boys, 37 girls and 74 men, arrived in Assamakka on 17th of June 2019.
The people were dropped off 30 km from Assamakka after being returned from Algeria. Among them, there were 5 Ivorian women and a baby at an estimated age of 4 to 6 months. One woman testified that she was dispossessed of all her property - a kind of act usually perpetrated by Algerian law enforcement during the deportations.
A deported Ivorian man told how he arrived in Assamakka with a group of 31 people. He was deported from Algeria after spending more than a year in prison with many people of various nationalities. When they arrived in the border area, they were left to their own devices without water, food or money. The witness said that some were shot in the legs and fell along the way. He talked about approximately 170 people left in the desert in danger of losing their lives. Until now, it is not yet clear whether these people were finally saved.
Another witness of Niger nationality, called Alhassane, pointed out that inhuman treatment is a daily occurrence on Algerian soil.
A Woman found in the desert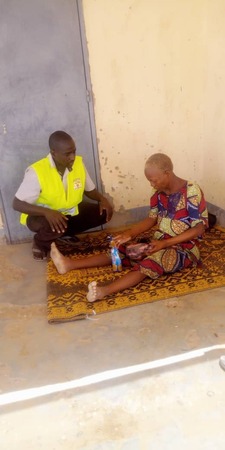 Among those who were returned on June 17, 2019, there was a Nigerian woman found alive at an estimated distance of 100 km from Assamakka in the desert and taken to Assamakka. According to Mohamed Souleymane, Alert Launcher in Assamakka, her physical condition was deteriorating and also her psychological state was affected. The Alert Launcher assisted her in stabilizing her health by taking her to the health centre every day. 
18th of June 2019: 4 dead people found in the desert
According to the testimony of Mohamed Souleymane, Alert Launcher from Assamakka who was on the spot with members of the security forces, 4 dead bodies were found about 50 km from the village of Assamakka. Apparently, the victims had walked a long distance because they had left all their luggage before succumbing and losing their lives exhausted in the big heat.
It was impossible to provide any further information on the identity of these persons and their origins. As the dead bodies could not be transported, they were buried on the spot.
It is a sad and condemnable reality that the situation in the desert between Algeria and Niger continues to increase the number of its victims.
Call for assistance for humanitarian support work in Assamakka 
Mohamed Souleymane, Alarme Phone Sahara Alert Launcher in Assamaka, calls for support for humanitarian assistance for people who have been deported to Assamakka. He says that assisting in frequent emergencies requires fuel to move, water and other basic necessities for exhausted people.
In addition, it is a challenge that exceeds his own capacity to help deported people in mental crisis, who may sometimes walk back to the desert and get lost, being in a disoriented state.   
Apart from that, he mentions, like the Kaouar Valley Alert Launchers in the Tenéré desert, a GPS localization training course to be able to carry out rescue missions in the desert. 
To make a donation for the work of Alarme Phone Sahara: